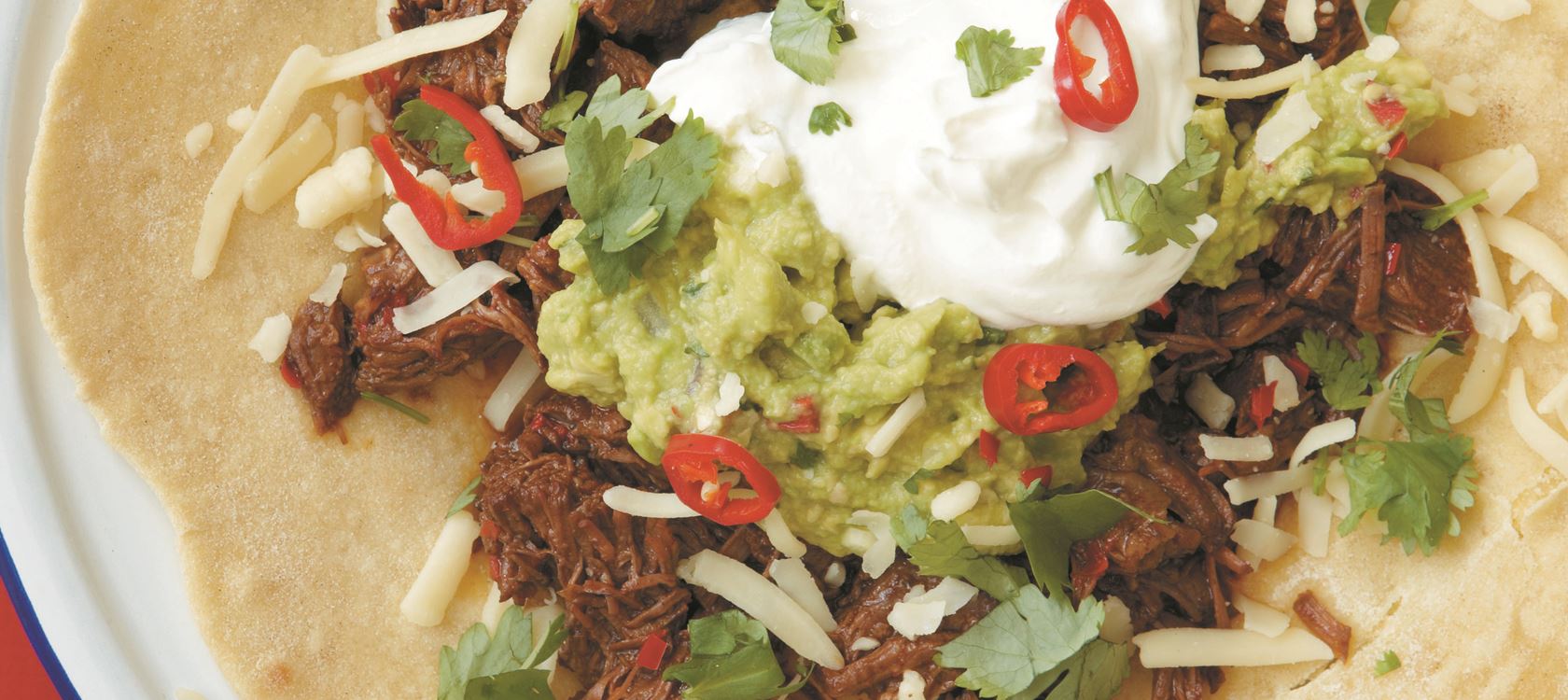 Slow cooked beef tacos with home made tortillas
Ingredients
Ingredients
2 tablespoons butter
3 pounds beef chuck
3 cloves crushed garlic
1 tablespoon honey
1 finely chopped red chili pepper
2 teaspoons cumin
2 teaspoons coriander
2 teaspoons of ground chili
¼ teaspoon salt
Guacamole
2 avocados
1 tomato
2 cloves crushed garlic
2 tablespoons lime juice
1 teaspoon of finely chopped red chili pepper
¼ teaspoon salt
Tortillas
¾ cup corn flour
¾ cup wheat flour
½ teaspoon salt
½ teaspoon baking powder
1 tablespoon butter
1 cup lukewarm water
Sides
1 cup creme fraiche
½ cup Arla® Mild Cheddar Shredded Cheese
Garnish
fresh cilantro
red chili peppers
Instructions
Instructions
Melt the butter at high temperature, but without browning it, in a sauté pan. Brown the meat approx. 2 min. on every side. Add the other ingredients. Boil the meat approx. 5 hours at low heat. Take the meat out and pull it apart with forks.
Guacamole
Cut the avocados, remove the stone and scrape the flesh out with a spoon. Mash it with a fork. Half the tomatoes and remove the seeds. Chop the rest of the tomato into small cubes and mix them together with the avocado and the rest of the ingredients. Taste and season, then place the guacamole covered in the fridge until serving.
Tortillas
Mix corn flour, wheat flour, salt and baking soda. Cut the butter into smaller pieces and crumble it into the flour mixture. Add the water little by little and knead the dough. The dough must not be sticky or dry. Divide the dough into 16 pieces and roll them into thin tortillas (about 15 cm in diameter). Let a pan heat up. Bake the tortillas one at a time with high heat approx. ½ min. on each side - until they are baked through. Keep them warm in a towel until serving. Serve the warm tortillas with beef, guacamole, crème fraiche and shredded cheese. Decorate with cilantro and chili.
Tips
Add finely sliced ​​iceberg lettuce - it tastes good and adds extra filling.
Print