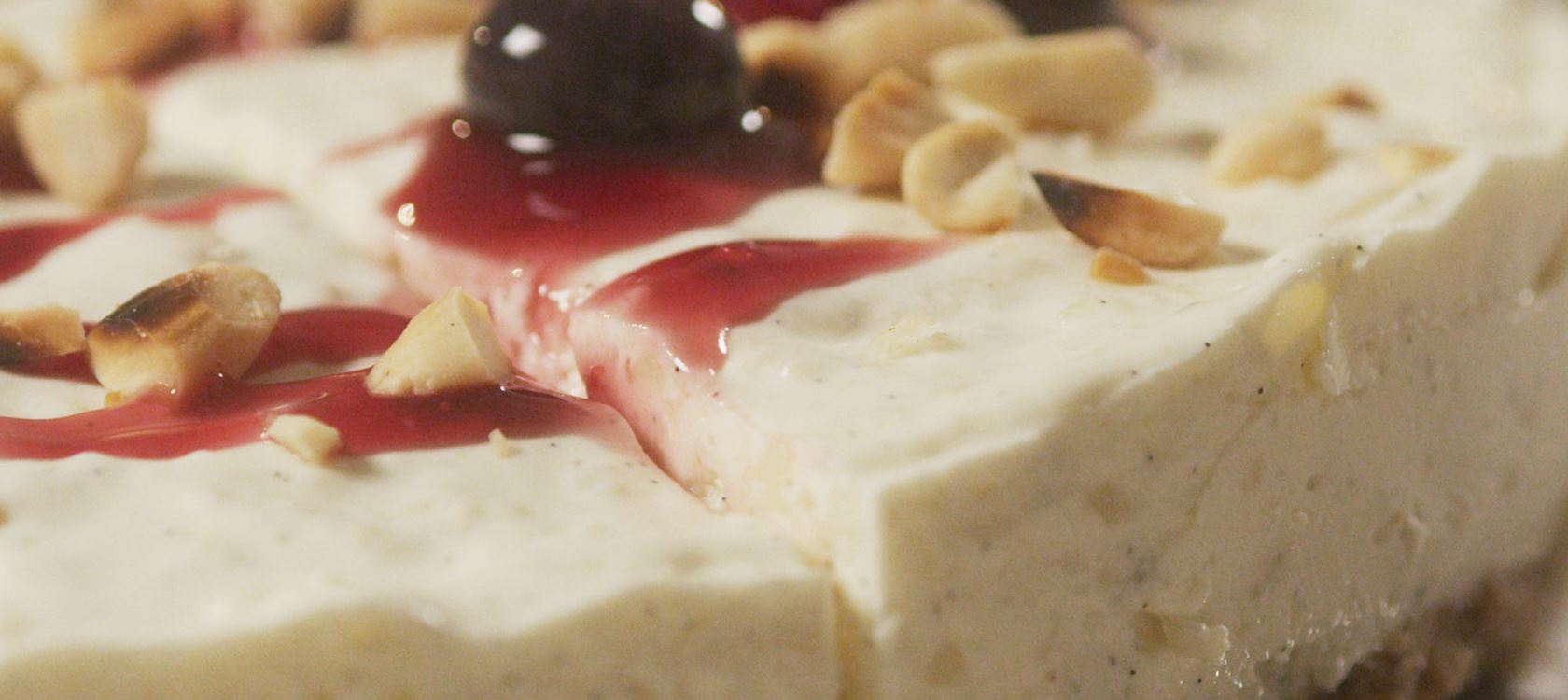 Experience this creamy and scrumptious Rice Pudding Cheesecake - a fresh Arla twist on a traditional Scandinavian dessert. Infused with vanilla, almonds, and fresh lemony flavors, this cheesecake is perfectly balanced with the smooth Arla Cream Cheese and warm berry sauce.
Ingredients
Base
Rice Pudding
½ cup water
1 cup short grain rice
2 cups whole milk
1 tablespoon sugar
1 tablespoon vanilla
salt
Filling
2 tablespoons vanilla
4 teaspoons caster sugar
1 cup heavy cream
½ cup blanched almonds
2 tubs Arla® Original Cream Cheese Spread
6 tbsp gelatin
lemon zest
1 tablespoon lemon juice
Topping
½ cup cherry sauce
¼ cup raspberries
¼ cup strawberries
almond slivers
Instructions
Instructions
Rice Pudding
Bring water and rice to a boil in a pot. Cook the rice at medium heart, while stirring for approx 2 min. Add milk and bring the pudding to a boil at high heat continuously stirring. Reduce the heart to low and simmer while stirring for 1 minute. Mix in vanilla and sugar. Let simmer for 40 minutes, stirring occasionally. Place the rice pudding covered in the refrigerator and allow it to cool completely - preferably overnight.
Base
Break the graham crackers into fine crumbles. Melt the butter and mix well with the crumbled graham cracker. Line the base of a cake tin with parchment paper and press the graham cracker into the bottom of the tin until the graham cracker crumbs line an even base. Let the base cool and set in the refrigerator for 10 minutes.
Filling
Mix rice pudding with 2 tbsp. sugar. Whip cream until peaks form and carefully mix about 1/3 of the whipped cream in and a bit more sugar if needed. Finely chop the split almonds, mix in the rice pudding and place covered in the refrigerator. To make the filling, add gelatin to water. In a bowl, stir Arla cream cheese with a bit of rice pudding until softened. Mix the rest of the Arla cream cheese with the rest of the rice pudding. Add in the gelatin with the mixture. Season with lemon zest. Pour into biscuit base, using a spatula to evenly spread. Cover the cake tin and place in the refrigerator for at least 3 hours, preferably overnight.
Topping
Pour the cherry sauce into a saucepan. Bring to a boil at medium heat while stirring for approx 1 minute. Reduce the heat to low and add the fresh berries. Decorate the rice pudding cheesecake with split almonds and warm berry sauce.
Print