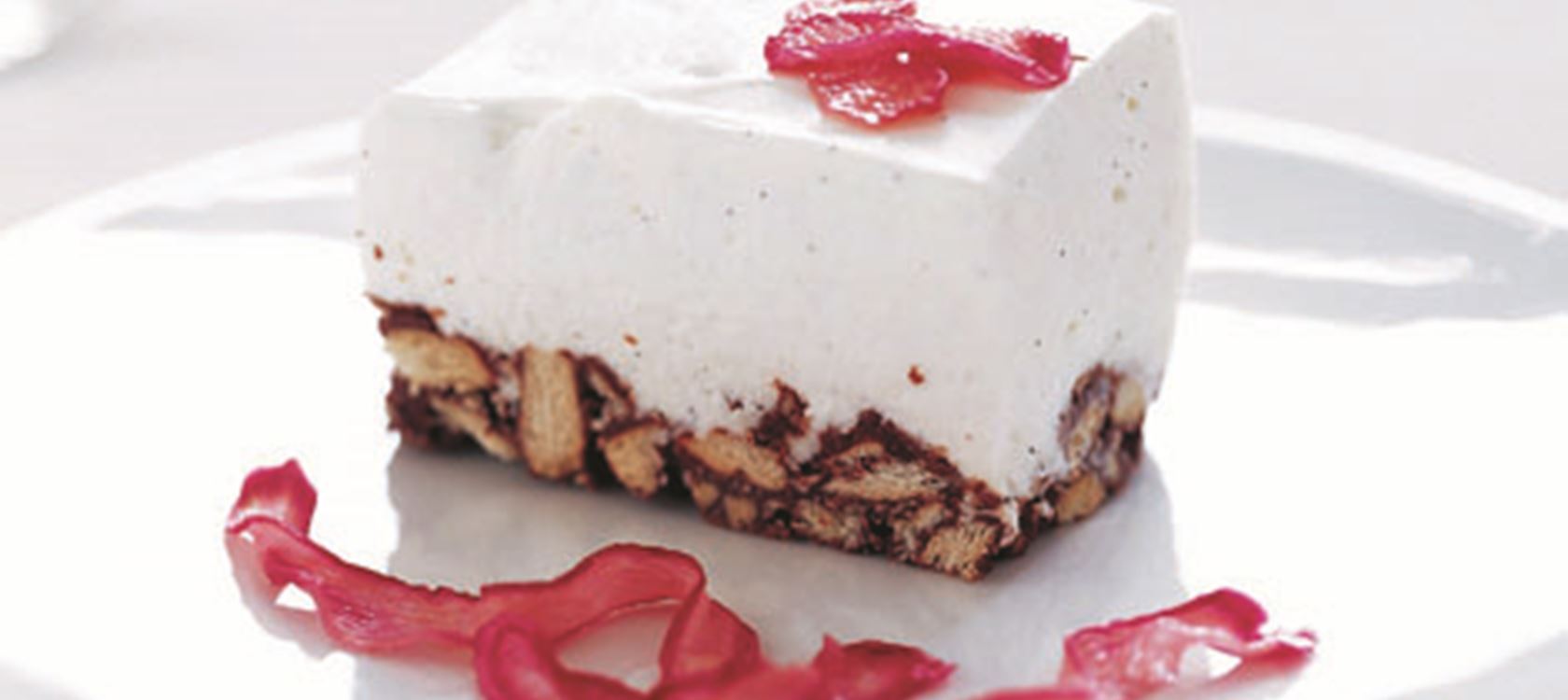 A delicious take on the classic rhubarb cheesecake.
Ingredients
Serves 10 people.
Base
⅛ cup butter
1 1.5 cup short bread cookies
1½ 1.5 cup dark chocolate
Filling
2 cups heavy cream
14 ounces Arla® Original Cream Cheese Spread
1¼ cup sugar
3 teaspoons vanilla
1 teaspoon finely grated lemon zest
4 cups plain yogurt
4 4 sheets gelatin
Rhubarb compote
4 cups water
1 cup sugar
3 cups chopped rhubarb (1/2 cm pieces)
Garnish
1 cup water
1 cup sugar
1 cup rhubarb in thin, long pieces
Instructions
Instructions
Base
Chop the cookies with a knife. Melt chocolate and butter in a bowl over water bath and stir the cookies. Cover a baking pan (about 13 x 9 x 2 inches) with baking paper. Distribute the chocolate mixture into the pan. Put a piece of baking paper over the chocolate mixture and squeeze it into a cookie dough. Put the pan in the fridge.
Filling
Whip the cream to a light foam. Stir the cream cheese with sugar and vanilla kernel and then stir the yoghurt in. Soak the gelatin in cold water for approx. 10 min. Pull the gelatin out, with the water that is attached, and melt it in a bowl over a water bath. Cool the melted gelatin with approx. 1 cup of the cheese mixture and stir it in with the rest. Blend in the whipped cream and immediately add the filling to the biscuit dough. Put the cake covered in the fridge until the next day.
Rhubarb compote
Bring water and sugar to boil. Put the rhubarb leaves in. Vaporize at low heat, and simmer for approx. 1 min. - The rhubarb pieces must be tender but still whole. Pour the compote into a bowl and allow it to dry covered in the refrigerator until the next day
Rhubarb garnish
Bring water and sugar to boil. Put the rhubarb pieces in a bowl and pour the boiling liquid over. Let them soak 1 min. Take the rhubarb and put them on a plate of baking paper. Divide the slices so that they are in a layer. Dry them ca. 2 ½ hours in the middle of the oven at 175 degrees, until they are crisp, and put the rhubarb pieces to cool on a new piece of paper. Store them in a tightly sealed can.
Print