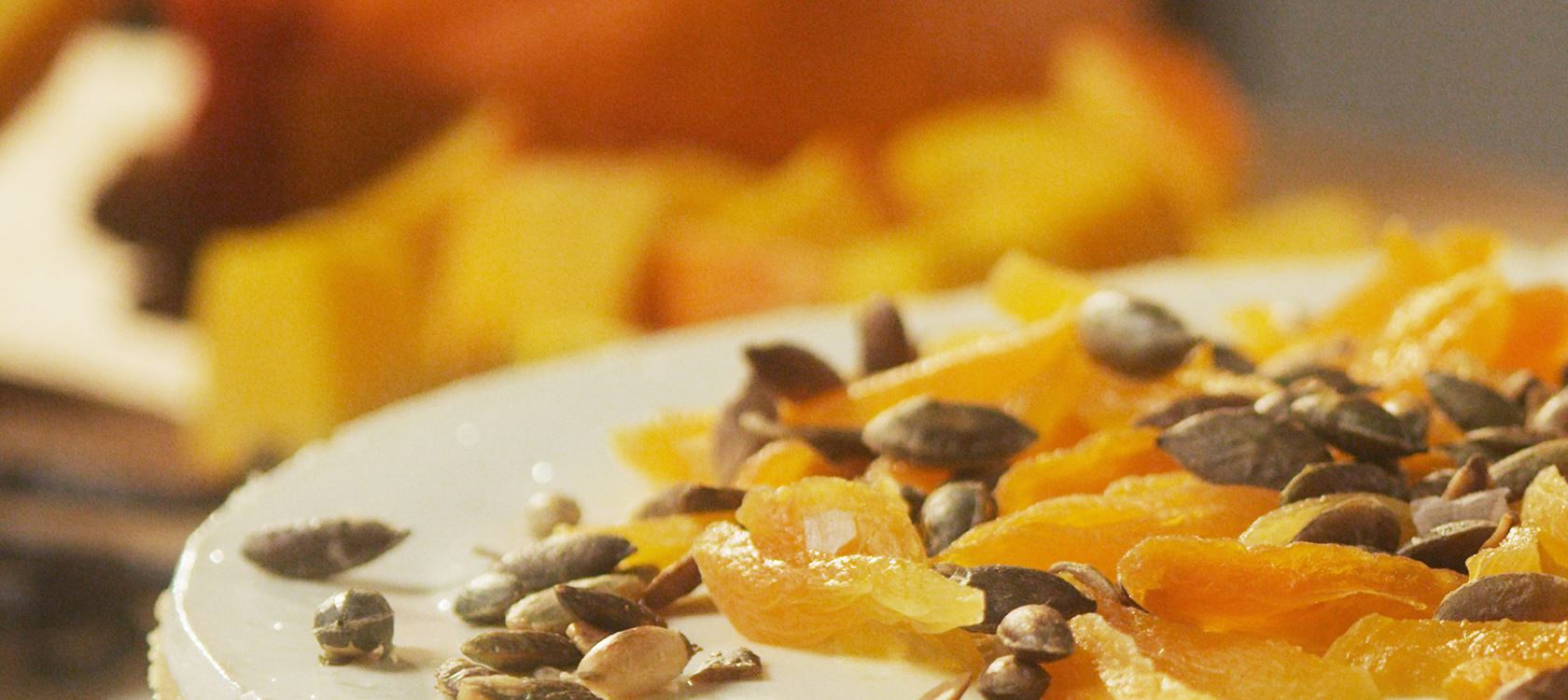 Enjoy a slice of Pumpkin Cheesecake - a perfect swirl of all of the fall flavors!
Ingredients
Base
2 cups graham crackers
¾ cup butter
¼ teaspoon cinnamon
¼ teaspoon ground ginger
¼ teaspoon allspice
¼ teaspoon nutmeg
Filling
3 tubs Arla® Original Cream Cheese Spread
1 can pumpkin puree
1 cup caster sugar
2 eggs
2 eggs yolks
1 tablespoon vanilla
1 orange zest and juice
Topping
1 cup creme fraiche
½ cup powdered sugar
½ cup pumpkin seeds
1 tablespoon honey
salt
dried apricot
Instructions
Instructions
Base
Crumble the graham crackers into fine pieces. Melt the butter and mix well with the graham cracker crumbles. Line the base of a cake tin with parchment paper. Press the graham cracker mix into the bottom of the tin until the graham cracker crumbs form an even base. Bake the base in the oven for 10 minutes at 315°F.
Filling
To make the filling, mix in the vanilla with sugar. Whisk in the Arla cream cheese. Add some orange zest and juice and mix. In a separate bowl, mix pumpkin puree with eggs and egg yolks. Gently mix the pumpkin with the cream cheese blend and pour on the graham cracker base. Use a spatula to spread into an even layer. Wrap the outside of the cake tin in a double layer of tinfoil to top of the cake tin. Place the tinfoil wrapped tin in a large roasting pan and pour hot water into roasting pan. Make sure the water is no higher than halfway up the sides of the cake tin. Bake the cheesecake approx. 50 minutes at 315°F. The outer ring of the cheesecake should be firm but the inner circle should be like pudding. Let the cake cool for 10 minutes and prepare the topping.
Topping
Mix pumpkin seeds with honey and spread onto a piece of parchment paper. Sprinkle with salt and bake for 15 minutes at 250°F or until the pumpkin seeds are slightly golden. Decorate the pumpkin cheesecake with dried apricots and honey roasted pumpkin seeds.
Print