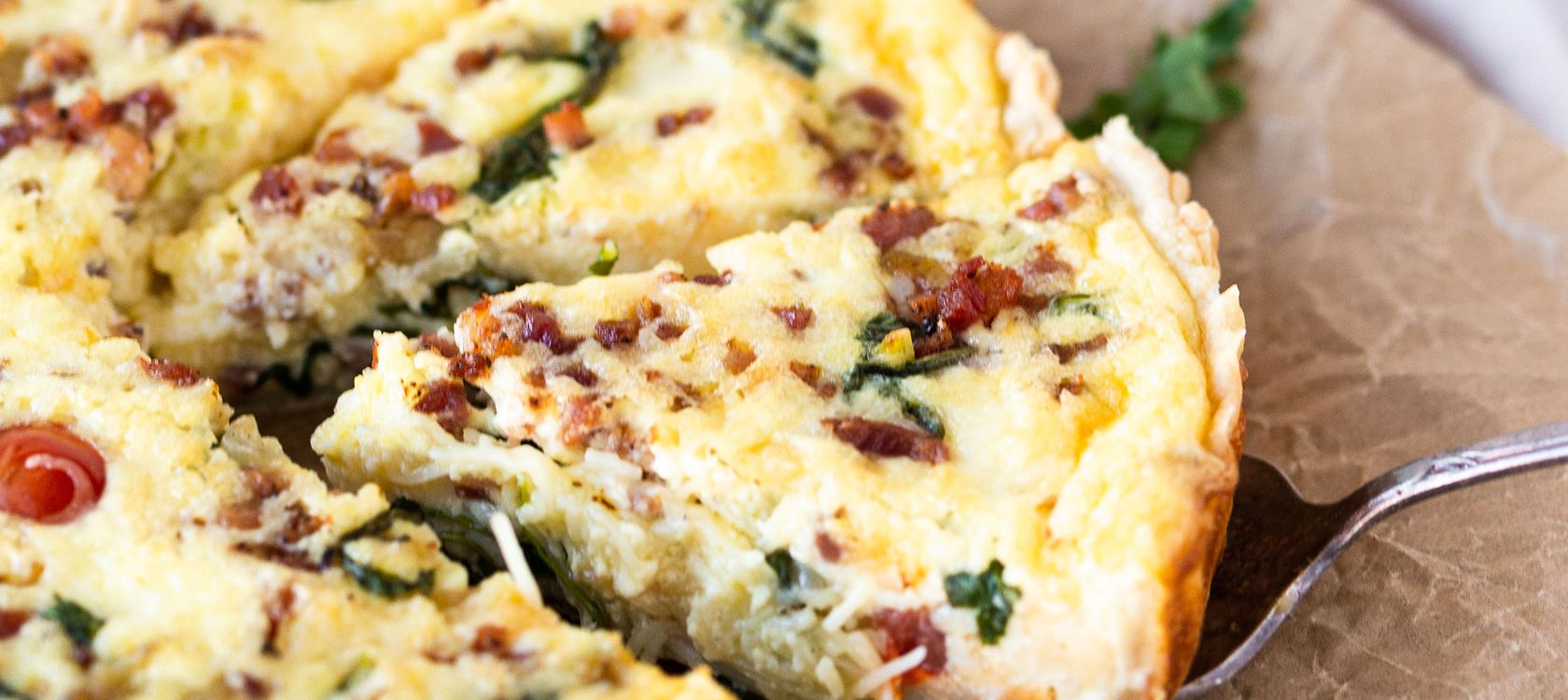 Pancetta Quiche with Havarti & Gouda
Ingredients
1 package Pie Crust
4 ounces Diced pancetta
2 Medium shallot . thinly sliced
2 garlic cloves, minced
½ cup baby arugula
8-10 cherry tomatoes, quartered
1 Cup Arla® Havarti Cheese, shredded
½ cup Arla® Gouda Cheese, shredded or diced
4 Large egg
1.3 cup heavy cream
¼ teaspoon nutmeg
.25 tsp white pepper
Instructions
Instructions
Unroll the thawed pie crust and place it in a 9" tart pan or pie pan. Poke the crust with a fork and fill it with pie weights or uncooked beans. Blind bake the crust at 400 for 10 minutes. This ensure your crust wont be soggy. Let cool. Set the oven to 350.

In a large skillet, crisp the pancetta. No oil is needed. Use medium low heat to render the fat from the pork and cook until crispy. Remove the pancetta with a slotted spoon, leaving the remaining oil in the pan.

Add 1 TBSP of butter to the pan, then add the sliced shallots. Cook until soft and translucent. About 3-4 minutes.

Add the garlic and arugula. Cook for 1-2 minutes, or until the arugula is wilted. Set aside.

In a large bowl, whisk together the eggs, cream, nutmeg, and white pepper. Stir in 3/4 C of the Havarti and all of the Gouda.

Save back 2 TBSP of the pancetta, a few pieces of arugula, and a few cherry tomatoes to arrange on the top. Spread the rest on the bottom of the crust and try to space the evenly so there's a bit of everything in each bite. Pour the egg custard over the top.

Place the pancetta, arugula, and tomatoes that you saved back on top and sprinkle with the remaining 1/4 C of Havarti

Bake at 350 for 35-40 minutes, or until the quiche is mostly set, with a little wiggle in the middle. It will finish firming up outside of the oven. Let cool slightly. Serve warm or at room temperature.
Print