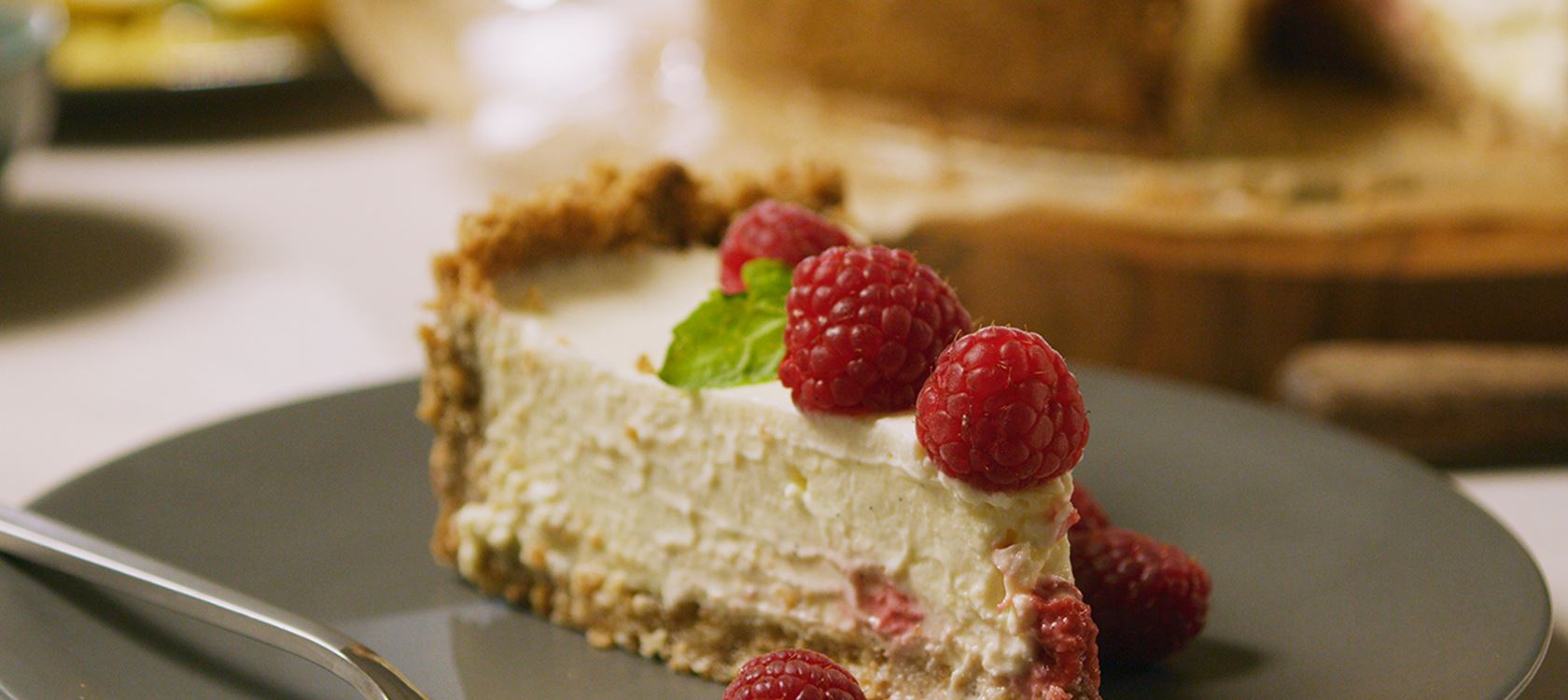 Enjoy this twist on the classic New York cheesecake, with lemon, raspberries and Arla Original Cream Cheese.
Ingredients
Base
½ cup butter
1½ cup graham crackers
Filling
4 tubs Arla® Original Cream Cheese Spread
2 eggs
2 eggs yolks
1 cup sugar
1 tablespoon vanilla
Juice and zest of one lemon
1 cup creme fraiche
¾ cup raspberries
Topping
1 cup creme fraiche
¼ cup powdered sugar
Instructions
Instructions
Base
Break the graham crackers and mix into fine crumbs. Melt butter and mix well with the crumbs. Line the base of a cake tin with parchment paper and the side with butter and return the side of the pan to the base. Press the graham cracker mix into the tin and up the side until the base is even and smooth. Bake the base in the oven 5 minutes at 325°F and leave it to cool.
Filling
To make the filling, split the vanilla pod and scrape out the seeds and mix with sugar and Arla Natural Cream Cheese. Mix in eggs, egg yolks, crème fraiche and lemon juice and zest and blend until the mixture is smooth. Place the raspberries on the biscuits base and pour in the cream cheese filling. Bake in the oven for 40 minutes at 325°F. The cheesecake must be solid - test this by knocking on the side of the cake tin to check the consistency. After baking, let the cheesecake rest outside the oven for approx. 10 minutes. Whip crème fraiche and powdered sugar together and spread it on the baked cheesecake. Bake it in the middle of the oven for 10 minutes at 325°F. Let the cheesecake cool completely and place the cake covered in the refrigerator for at least 3 hours – or best overnight before serving.
Serving
Remove from refrigerator and decorate with fresh berries.
Print