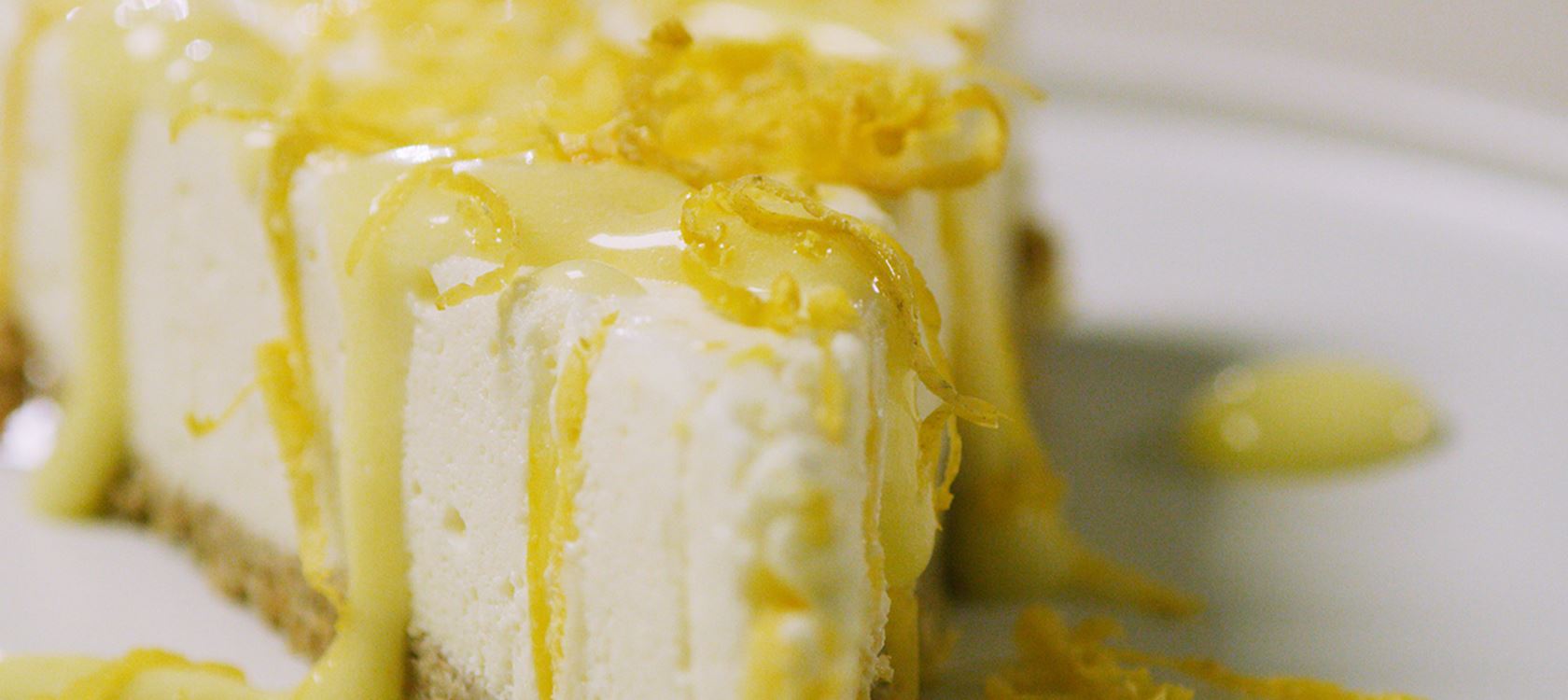 Have a slice of delicious Lemon Cheesecake. Every slice of this lemony goodness balances creamy lightness with the freshness of the lemons and soft sweetness of vanilla.
Ingredients
Base
½ cup butter
1½ cup crushed graham crackers
Filling
3 tablespons gelatin
1 tub Arla® Original Cream Cheese Spread
2 eggs yolks
¾ cup creme fraiche
1 tablespoon vanilla
zest and juice of one lemon
2 eggs whites
¼ cup powdered sugar
Lemon Curd
½ cup sugar
¼ cup melted butter
2 eggs
Juice of three lemon
Zest of three lemon
Instructions
Instructions
Base
Break the graham crackers and mix into fine crumbs. Melt butter and mix well with the crumbs. Line the base of a cake tin with parchment paper and return the side of the pan to the base. Press the graham cracker mix into the tin until the base is even and smooth. Refrigerate and allow the base to solidify.
Filling
To make the filling, add gelatin powder to water, according to package. Mix the vanilla with, Arla Original Cream Cheese, egg yolks, crème fraiche, lemon zest and juice. Remove the gelatin from the water and melt in a saucepan or microwave over very low heat, stirring just until melted completely. Let the mixture cool until lukewarm. Stir the melted gelatin together with a little of the cream cheese mixture and blend it with the rest. Whisk the egg whites stiff, add powdered sugar and whisk for another 2 minutes. Fold the egg whites with the cream cheese mixture and pour the filling onto the graham cracker base. Cover the cake tin and put in the refrigerate until the next day.
Lemon Curd
Whisk egg, lemon juice and sugar in a small pan. Stir at medium heat without bringing it to a boil. When it starts to thicken add butter and lemon zest. Keep whisking until it has thickened and remove from the heat. Allow it to cool in the refrigerator before adding it to the cheesecake. Decorate the cheesecake with lemon zest and serve.
Print