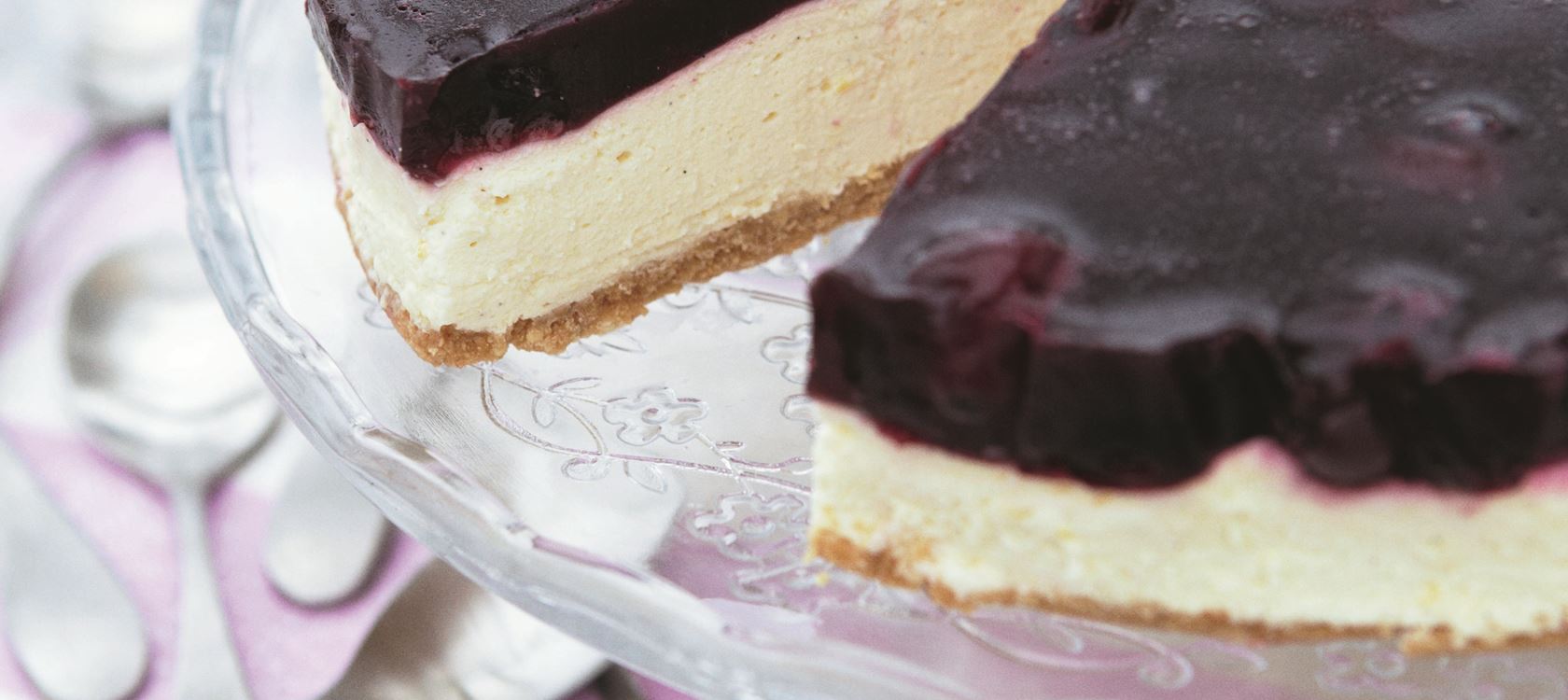 Legendary cream cheese cheesecake with the easy graham cracker dough and cherry jelly.
Ingredients
Serves 8 people
Base (day before)
1 stick of butter
1½ cup crushed graham crackers
Filling (day before)
1 cup creme fraiche
7 ounces Arla® Original Cream Cheese Spread
1¼ cup sugar
1 teaspoon vanilla
1 teaspoon finely grated lemon zest
1 teaspoon freshly pressed lemon juice
4 4 sheets of gelatin
2 2 eggs
½ cup powdered sugar
Cherry Jelly
4 sheets of gelatin
1 can cherry (12 ounces)
water as needed
Instructions
Instructions
Base
Melt the butter, combine it with the graham crackers in and mix well. Distribute the mixture into a loose-bottom baking pan (8-inch pie pan).
Filling
Soak the gelatin in cold water for approx. 10 min. Stir the cream cheese together with egg yolks, creme fraiche, vanilla sugar, lemon zest and juice. Pull the gelatin out of the water, together with the water attached. Melt it with mild heat. Stir the gelatin together with a little of the cream cheese mixture and blend it with the rest. Whip the egg whites stiff, add flour and whip for another approx. 2 min. Blend the egg whites with the cream cheese mixture. Pour the filling onto the biscuit base, cover the pan with a sheet or lid , and refrigerate the cake until the next day.
Jelly
Soak the gelatin in cold water for approx. 5 min. Let the cherries drip in a sieve over a bowl. Add water until you have approx. 1 cup diluted cherry juice. Pull the gelatin out of the water, transfer it and the attached water to another bowl. Warm ¼ cup of cherry juice and melt the gelatin in it. Cool with the rest of the juice. Decorate the cake with the drained cherry and pour the jelly over when it starts to stiffen.
Print