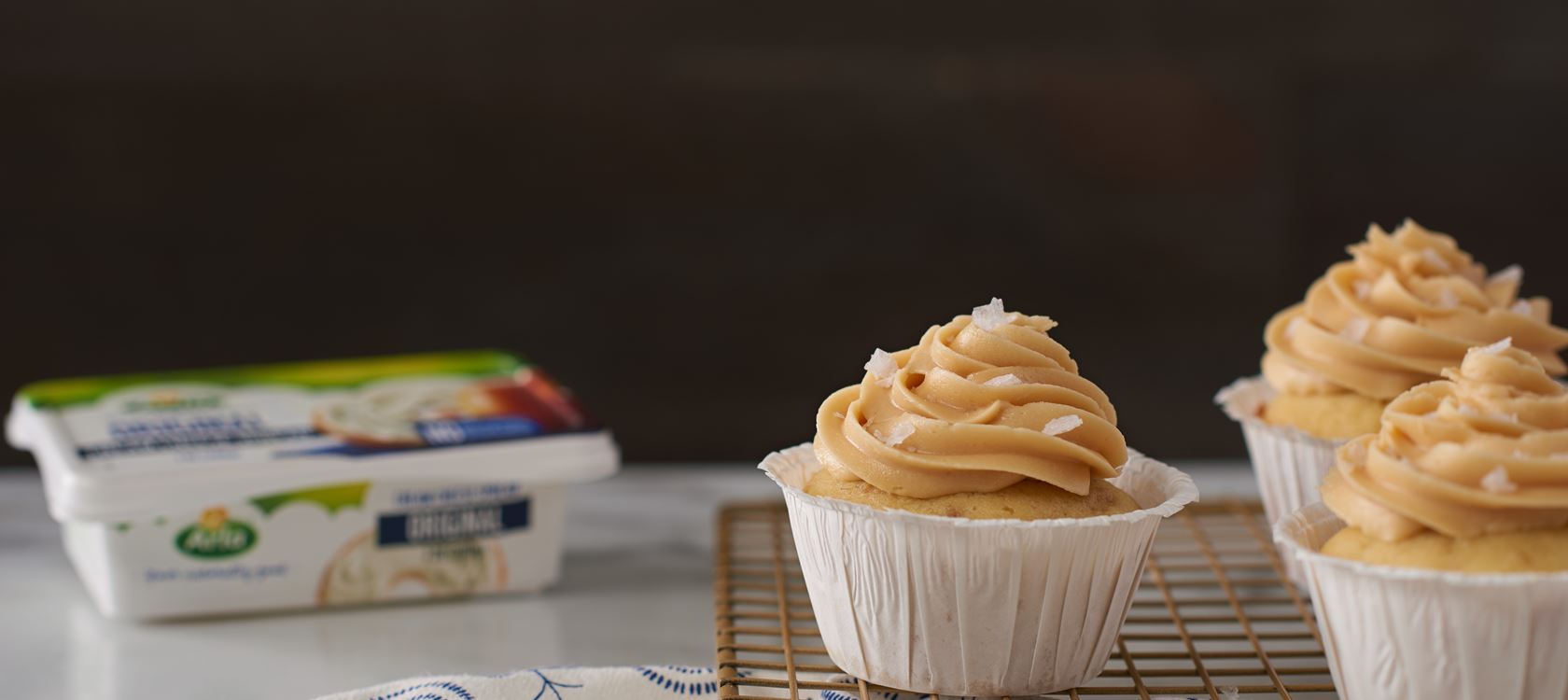 Banana Cupcakes with Caramel Cream Cheese Frosting
An easy way to wow guests is with a beautiful dessert. Cupcakes are great for a Easter celebration, they are delicious and can be creatively decorated. A great Spring recipe are Banana cream cheese cupcakes, topped with a frosting make with Arla Original Cream Cheese frosting.
Ingredients
Recipe for 18 servings portions
Cupcakes
1 stick of unsalted butter
3½ ounces Arla® Original Cream Cheese Spread (1/2 tub)
½ teaspoon vanilla extract
¾ cup sugar
3 eggs
1½ cup AP flour
1¼ teaspoon baking powder
¼ teaspoon salt
2 bananas, very ripe and mashed, about 3/4 cup
Frosting
¼ cup granulated sugar
4 tablespoons salted butter
3½ ounces Arla® Original Cream Cheese Spread
2 cups confectioner's sugar sifted or whisked to remove lumps
flaked salt (for garnish, optional)
Instructions
Instructions
Cupcakes
Preheat oven to 375°F. Line muffin cups with paper liners (18 regular or 36 mini) and lightly spray with pan spray. Remove the peel-off lid from the cream cheese and, using a fork, mix the whey into the cream cheese. In a medium bowl using a hand mixer, beat ½ the package of cream cheese with the butter until smooth, about 1 minute. Add vanilla and, using high speed, gradually beat in sugar until light and fluffy, about 2 minutes. Reduce mixer to medium and add eggs one at a time, just until combined. Measure flour and stir in baking powder and salt. Using low speed, add the flour mixture to the creamed mixture just until combined. Clean the beaters and, using a large spoon or spatula, fold the mashed bananas into the batter just until combined. Using an ice cream scoop, fill the lined cups 3/4 full with the batter. Place the cupcakes in the oven and bake until a toothpick comes out clean, about 20 minutes. If making mini cupcakes, bake about 15 minutes, until golden brown. Let cupcakes cool completely before frosting.
Frosting
Add sugar to a small skillet and heat over high heat, gently swirling, not using a utensil, just until the sugar melts and turns a deep caramel, about 2 ½ minutes. Remove from the heat and drop in 2 tablespoons of the cubed butter and a generous tablespoon of cream cheese. Again, swirling gently to combine, not using a utensil. The butter and cream cheese will melt into the caramel and loosen. As the butter stops melting, use a silicone spatula and stir to combine. Set aside to cool completely. In a deep, medium bowl, using a hand mixer, combine the remaining cream cheese and butter and beat until smooth and creamy, about 2 minutes. Beat in the caramel sauce using high speed, beating until creamy, another minute. Using low speed, carefully add the sugar and when the last bit is added, increase to high speed and beat an additional minute until smooth, light and fluffy. Frost cupcakes and top with a pinch of flaked salt.
Print