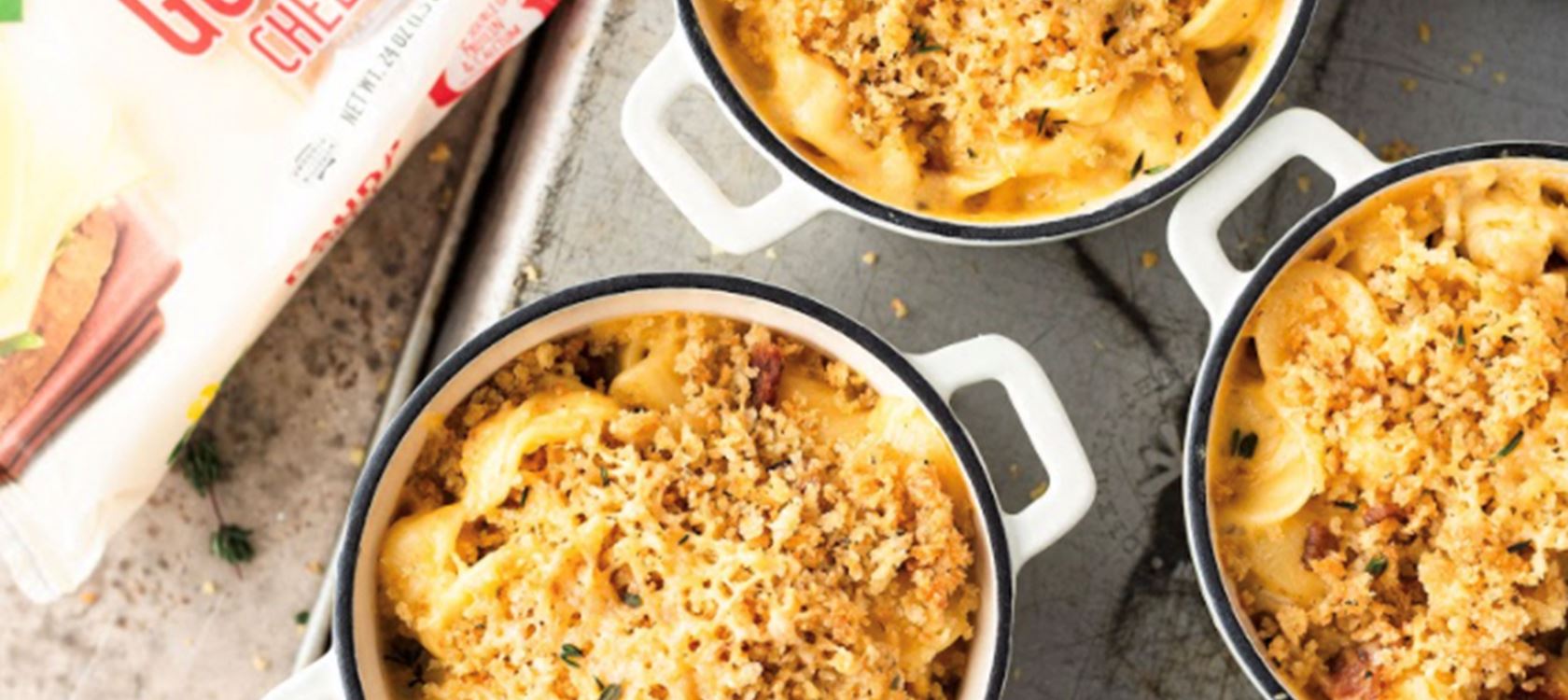 Bacon Gouda Mac and Cheese
Creamy three cheese sauce, orecchiette, crispy bacon, and toasted breadcrumbs.
Ingredients
6 slices thick cut bacon
1 Box Orecchiette pasta
4 tablespoons butter,divided
3 tablespoons all purpose flour
2 cups whole milk
½ cup shredded Arla® Gouda Cheese
.5 cup shredded Arla® Havarti Cheese
.5 cup Shredded Gruyere cheese
1 cup panka breadcrumbs
1 teaspoon fresh thyme, chopped
Instructions
Instructions
Slice the bacon into bite sized pieces and put it in a large cold skillet.

Turn the heat to medium and cook the bacon until crisp. Remove bacon from pan and drain onto a paper towel-lined plate.

While the bacon cooks, cook the pasta 1-2 minutes less than the package instructions so that it is very al dente. Drain, and set aside. Preheat the oven to 375.

Remove all but 1-2 TBSP of the bacon fat from the pan and add 2 TBSP butter, heat over medium until butter is melted, then sprinkle in the flour.

Stir with a wooden spoon and cook for 2 minutes to remove the raw flour taste. Whisk in the milk until smooth. Season with salt and pepper.

Add the 3 cheeses in slowly, about 1/4 C at a time, making sure it's melted into the sauce before adding more.

Once all of the cheese is melted into the sauce, taste for seasoning and add more salt and pepper if needed. Then pour over the prepared pasta. Prepare a 9X13 baking dish or 4 individual dutch ovens by spraying lightly with nonstick spray.

In a small pan, melt the remaining 2 TBSP butter and add the panko bread crumbs. Toast until golden brown.

Pour the pasta into the pan and top with bread crumbs. Bake at 375 for 20-25 minutes. Enjoy.
Print